Meet the Ponies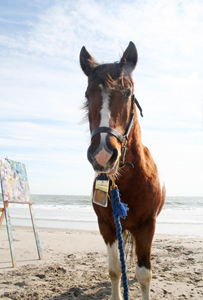 Chincoteague Minnow was born in 1993 on Assateague Island in Virginia. A veteran of the swim, he came to live with Kyley in August of 2003. In the beginning the pair battled with trust issues. Minnow's past was a bit rocky as he had been through many homes in the previous 10 years and as a result Minnow had difficulty trusting people. For two years Kyley struggled to connect with this little Chincoteague Pony, but he refused to let her in.
After searching for new training methods, Kyley stumbled upon a trick training book. This book quickly opened up a whole door of communication between Kyley and Minnow. Minnow discovered that learning was filled with kindness and treats and Kyley discovered that Minnow would do just about anything for a handful of grain. Trick training built a special bond between the pair, and now Minnow has a long list of tricks that he loves to perform.
After accompanying Kyley to art school she decided that Minnow should learn to paint too. In Janurary of 2007 Minnow picked up his very first paintbrush and became the World's First Painting Chincoteague Pony, and the rest is history.
Sadly in March of 2008 Minnow was diagnosed with ringbone, a form of equine arthritis. At the young age of 15 he was no longer able to be ridden or compete. Fortunately Minnow is still able to do what he is most passionate about, paint. Painting has given Minnow a new purpose after retirement as he sets out to show the World just how special he is.
Minnow has gone on to perform at schools, fairs, expos, and more. And in 2010 he won the Equine Extravaganza Talent Contest with his sidekick Ammo the Dachshund.
Minnow is Kyley's very first trick pony and he will always hold a special place in her heart. Everyday he amazes us with his capacity to learn new things and accomplish new goals. The pair share a special friendship that will last forever.
See more of Minnow: