Meet the Ponies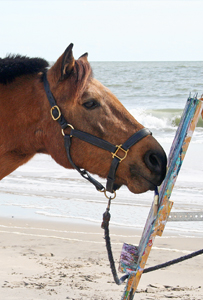 Chesapeake Boomerang aka Boomer was born on March 21, 2003 at 1000 Welcomes Farm in Chapel Hill, North Carolina. His parents were island bred Chincoteague Ponies (Sire - Chesapeake Powhattan's Promise/Dam - Tidewater Surfer Chique). His mother is the daughter to the famed Assateague Island Stallion, Sufer Dude. Boomer is also Blitz's half brother.
Boomer spend the first four years of his life living as a successful hunter show pony. He spent those four years learning how to slow down to the ideal hunter pace, that is until he came to live with Kyley on August 10, 2008. Boomer now lets his speed loose as a successful mounted games pony, and it is evident he was born to run.
Boomer's unique coloring (Buckskin Tobiano Pinto) is a show stopper wherever the pair goes. He even bares the same unique white marking on his side, like the famous Misty of Chincoteague, of a white patch shaped like the United States.
Boomer quickly took after his older "brothers" as he adapted to life as a trick pony. Boomer painted his very first masterpiece on April 19, 2010.
Since coming to live with Kyley in 2008 Boomer has gone on to become a very versatile mount. He has competed successfully in mounted games, versatility, judged trail competitions, mounted shooting, paper chases, extreme cowboy races and much more. In 2011 Boomer placed 6th in the Craig Cameron Extreme Cowboy Race at the Pa Horse World Expo. Go Boomer!
See more of Boomer: