Meet the Ponies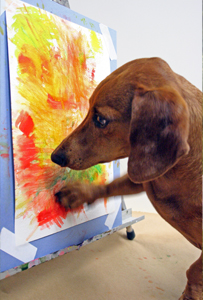 Ammo the Dachshund was born on October 5, 2008. Ammo may not be a Chincoteague Pony, but he plays an important role as sidekick to the Trick Ponies of Chincoteague. In fact, Misty of Chincoteague had her own Dachshund sidekick named Alex of Jandelo.
Ammo has a special love for the Painting Ponies, especially Chincoteague Minnow. In 2009, Ammo's playful antics with Minnow landed him a spot on Animal Planet's America's Cutest Dogs, which featured a clip of the two playing together. And in 2010 he won the Equine Extravaganza Talent Contest alongside Minnow. The pair have gone on to perform at schools, expos, fairs, and more.
Kyley finally realized it was time for Ammo to become an official member of the Trick Ponies when he helped Minnow create one of his paintings by tromping all over the still wet canvas. In 2010 he did begin creating his own original series of scratch art and in 2011 he became a painting dachshund, when he created his very first watercolor masterpiece. To check out Ammo's latest creations be sure to visit the shop.
When Ammo's not at the farm with the ponies he enjoys taking training classes, competing in Dachshund races, Dog agility, and Earthdog competitions. In 2012 Ammo even became a certified canine good citizen and therapy dog.
Stay up to date with all of Ammo's adventures by visiting his blog.
See more of Ammo: