Chincoteague Island

The Chincoteague Pony is a hardy breed that developed on Assateague Island, just off the Atlantic coast of Maryland and Virginia. Legend has it that the ponies on Assateague are descendants of survivors of a Spanish galleon that sank on its way to Mexico during a storm off the coast of the island. However, many believe that the ponies are actually descended from domesticated stock, brought to the island by Eastern Shore farmers in the 17th century to avoid fencing requirements.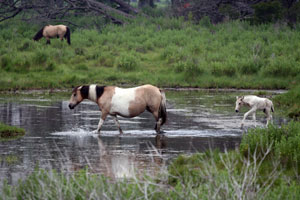 Today there are two distinct groups of ponies that live on Assateague Island, the Maryland herd and the Virginia herd. The Maryland ponies are owned and managed by the National Park Service who have carefully followed the population over generations. The Virginia ponies are owned by the Chincoteague Volunteer Fire Department, who once a year round up the ponies for auction on Pony Penning Day. The Maryland and Virginia ponies are kept apart by fencing at the border between the two states. The two herds have divided themselves into bands and each band occupies a home range on the island. The size of the herds is restricted to approximately 150 adult ponies in order to protect the other natural resources of the island. It is the Virginia herd which is often referred to as the "Chincoteague" ponies.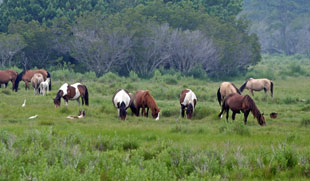 The Chincoteague Pony breed varies greatly in physical characteristics since there is no true breed standard. Most ponies are between 12 and 13.2 hands high, but when raised in domestication some have been known to reach 16 hands. Chincoteagues come in a variety of colors and patterns, with pinto being the most common.