Chincoteague Island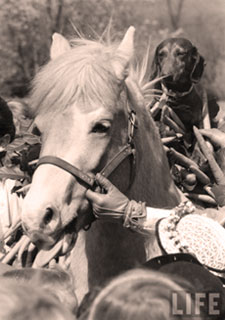 Misty of Chincoteague is a children's book written by Marguerite Henry in 1947. The book is based on the true story of a Chincoteague Pony named Misty. Set on the costal island of Chincoteague, Virginia, the book tells the story of the Beebe family and their efforts to raise a filly born to a wild horse. The book became a best seller and made Chincoteague, and the annual Pony Penning famous.
The real life Misty was born on July 20, 1946 on Assateague Island, sired by Pied Piper, out of a dam called Phantom. Misty was a 12 hand palomino tobiano and sabino pinto whose coloration included a large patch of white on her side, shaped like the United States, and a blaze shaped like the state of Virginia.
Marguerite Henry met Misty in 1946 when she went to Chincoteague in search of a story for her book. She purchased Misty from the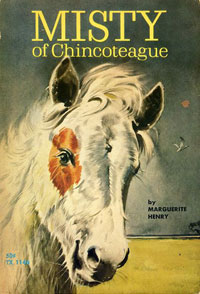 Beebe's and Misty went to live in Wayne, Illinois. Misty shared the farm with a Morgan horse named Friday, a donkey named Brighty and Marguerite Henry's Dachshund, Alex of Jandelo. Misty had three foals throughout her life, Phantom Wings, Wisp O' Mist, and her most famous foal, Stormy.
After spending part of her life at Marguerite Henry's Illinois home, she was moved back to Chincoteague where she died in 1972 at the age of 26. Misty's hoof prints are in the sidewalk outside the Roxy Movie Theatre in Chincoteague and her body, along with her foal Stormy, have been preserved and can be seen at the Museum of Chincoteague.
Click Here for more information on Misty.
See photos of Misty: