Meet the Ponies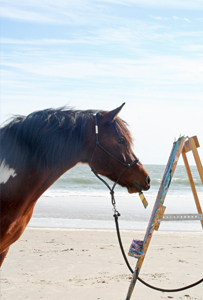 Chesapeake Lightning aka Blitz was born on June 13, 2002 at 1000 Welcomes Farm in Chapel Hill, North Carolina. His parents were island bred Chincoteague Ponies (Sire - Chesapeake Powhattan's Promise/Dam - Tidewater Fable). At the age of 3 Blitz was auctioned off at the Virginia Sport Horse Auction and went to live at Quiet Creek Farm in Westminster, Maryland.
When Chincoteague Minnow was diagnosed with ringbone and pronounced unrideable Kyley began to search for another Chincoteague Pony. She had fallen in love with the breed and was determined to find another Chincoteague Pony mount. When Kyley discovered Blitz's online ad in the summer of 2008 somehow she knew he was supposed to be a part of the family. One look into Blitz's eyes and he was on his way to his new home in Pennsylvania.
Blitz started his trick training the day he arrived at his new home and created his very first painting in September of 2009. Blitz's puppy-dog personality and his willingness to learn make him an ideal trick pony.
Blitz is now owned by Kyley's mom, Anne, who fell in love with this amazing pony. She has spent countless hours training Blitz to be a versatile mount. Blitz now excells as a trail horse and has competed in mounted games, judged trail competitions, paperchases, versatility, mounted shooting and more.
See more of Blitz: